← Turlough McConnell Interview | Irish Radio
The Mission Continues: Who Is My Neighbor? →
Great Famine Voices Roadshow | Strokestown Park
March 30, 2018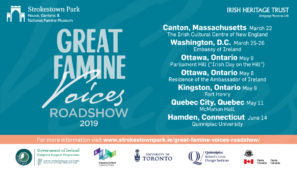 Turlough McConnell is pleased to participate in an innovative new project, Great Famine Voices developed by Strokestown Park House's Famine Archive that seeks to grow an online community who together will learn more about the Great Famine in Ireland. They will be sharing unique documents for the online community to transcribe, asking users to begin to research and to share the fruits of their labor  via their website.
To read more about the project click here
This entry was posted in featurednews, news. Bookmark the permalink.
← Turlough McConnell Interview | Irish Radio
The Mission Continues: Who Is My Neighbor? →
Comments are closed.