← Being Wilde Anytime
BLACK ABOLITIONISTS IN IRELAND →
History Loves A Parade
May 8, 2021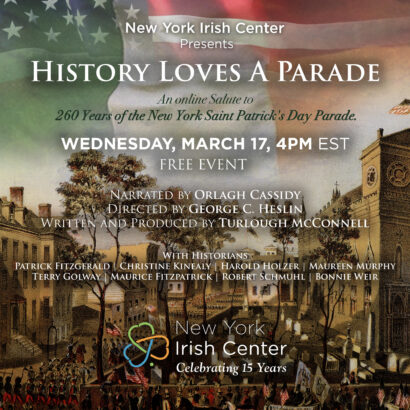 An online Salute to 260 Years of the New York Saint Patrick's Day Parade.
NARRATED BY ORLAGH CASSIDY
DIRECTED BY GEORGE C. HESLIN
WRITTEN AND PRODUCED BY TURLOUGH MCCONNELL
With Historians
Patrick Fitzgerald | Christine Kinealy | Harold Holzer | Maureen Murphy |
Terry Golway | Maurice Fitzpatrick | Robert Schmuhl | Bonnie Weir
To watch click here.
This entry was posted in Featuredprojects, projects. Bookmark the permalink.
← Being Wilde Anytime
BLACK ABOLITIONISTS IN IRELAND →
Comments are closed.