← A Monumental Legacy Exhibition Tour | Video
How The Nuns of New York Tamed The Gangs of New York | Irish Central →
Made in (18th Century) Ireland | Irish America Magazine
March 17, 2015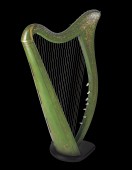 To celebrate Saint Patrick's Day, Turlough McConnell is pleased to share his latest story, "Made In (18th Century) Ireland," published in Irish America Magazine about the wonderful exhibition of 18th Century Irish art opening today at The Art Institute of Chicago.
"Popularly known as the "long 18th century," beginning with the ascendancy of William and Mary over the Kingdoms of England, Scotland and Ireland in 1689 and culminating at the brink of Ireland's Great Hunger in the 1840s, these were not just years of hardship and uncertainty in Ireland but they also mark a period of extraordinary creative accomplishment.
At a time of grand ideas, of the European Enlightenment and the French and American Revolutions, of political ferment as the country chafed under English rule, the arts flourished in Ireland in a kind of neglected renaissance." Click here to read the full article.
This entry was posted in featurednews. Bookmark the permalink.
← A Monumental Legacy Exhibition Tour | Video
How The Nuns of New York Tamed The Gangs of New York | Irish Central →
Comments are closed.