← Special Features for Irish America Magazine
The Guide Exhibition Catalog →
Irelands Great Hunger Museum | The New York Times
March 9, 2013
Mournful, Angry Views of Ireland's Famine
A Review of Ireland's Great Hunger Museum, in Hamden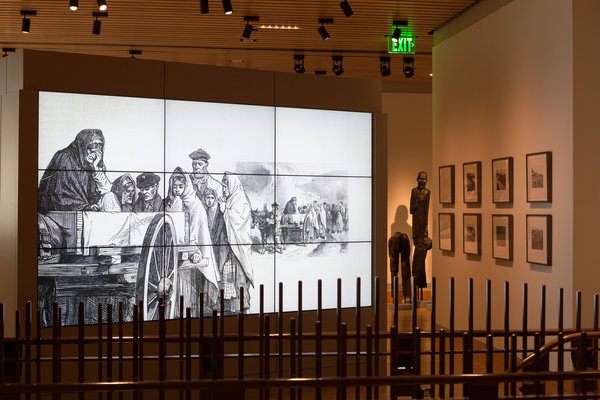 Mark Stanczak/Quinnipiac University
PROCESSION A print of a grieving family is projected on a video wall.
By SYLVIANE GOLD
Published: January 4, 2013
Most museums that bear witness to a nightmare, like Yad Vashem in Jerusalem or the Peace Memorial Museum in Hiroshima, are hard to visit. Caught between our need to understand the history and our wish to turn away from the horror, we don't quite know where or how to look.
But Ireland's Great Hunger Museum, which opened in October in Hamden, is a different kind of place. For one thing, the event it commemorates, the Irish potato famine, …
This entry was posted in news. Bookmark the permalink.
← Special Features for Irish America Magazine
The Guide Exhibition Catalog →
Comments are closed.