← A "Very Irish Day" | Rededication of the Robert Emmet Memorial in Washington, DC
In Conversation: Proclaiming the American Story (1916-2016) | Consulate General of Ireland →
Adrian Flannelly Receives Honorary Degree | Quinnipiac University
June 16, 2016
Quinnipiac University salutes Adrian Flannelly for his lifelong service to the Irish American community.
Photograph by Kit Defever at the Irish Hunger Memorial, Battery Park, New York City, 2016.
Produced by Turlough McConnell Communications for Quinnipiac University.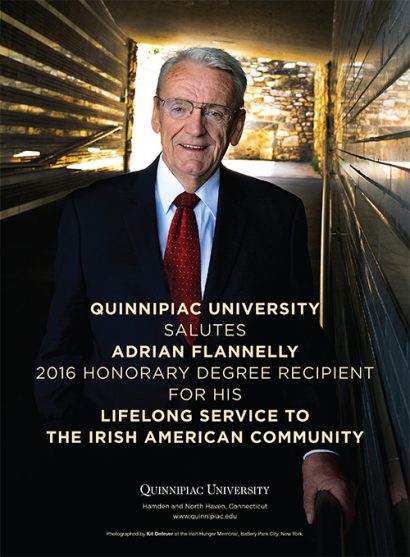 This entry was posted in news. Bookmark the permalink.
← A "Very Irish Day" | Rededication of the Robert Emmet Memorial in Washington, DC
In Conversation: Proclaiming the American Story (1916-2016) | Consulate General of Ireland →
Comments are closed.