← Antwerp New York
The Irish Mission at Watson House: Reopened After Hurrican Sandy →
Amazing Grace unites traditional divides in Donegal
October 7, 2013
by Turlough McConnell
Buncrana, jewel of the picturesqueInishowenPeninsula, has seen its fair share of historic gatherings on the shores of Lough Swilly. From being the departure point of the Flight of the Earls to the captureportofTheobold Wolfe Tonenearly two centuries later, history flourishes in this corner of Tip O'Neill's ancestral homeland.
And it was at Buncrana that shipwrecked John Newton, best known as author of the enduring "Amazing Grace," converted from complacent slave trader to committed abolitionist.Newton's story connects Donegal and Derry with the inspirational hymn andBritain's abolition of the transatlantic slave trade one hundred and sixty years ago.
In an unprecedented cross-border community function, Martin McGuinness, Deputy First Minister ofNorthern Ireland, jointly opened Donegal's Amazing Grace viewing point in October with Jonathan Bell of the First Minister's office and Buncrana mayor, Cllr Peter Mc Laughlin. "This is a great story that resonates throughout the world," he said. "John Newton was someone who was part of changing the course of history." Emphasizing the importance of cross-cultural cooperation, McGuinness added, "It is wonderful to come here at a time of peace."
As a Donegal lad, I experienced first-hand the impact of theNorthern Irelandtroubles on our community. To hear McGuinness commit to this message and to participate in this historic event was personally very meaningful and I applaud the organizers for their initiative.
Nobel Peace Prize honoree John Hume and other dignitaries from both sides of the border attended the event. Over 100 guests, including Irish schoolchildren, senior church leaders from both Catholic and Protestant traditions, and politicians from both sides of the border representing the full spectrum of political affiliation, were guests of Inisowen Tourism in association with Tourism Ireland's The Gathering and 2013 Derry-Londonderry. The new viewing point is part of an ongoing plan to create an Amazing Grace experience for visitors to the region, with work set to start on a new park in 2014.
Representing the First Minister of Northern Ireland, Jonathan Bell, MLA said, "Amazing Grace is a hymn that has transcended countries and people. It was sung at Martin Luther King's 'I have a dream speech'. It was sung as theBerlinwall came down. That message of the grace of the Lord Jesus comes to all of us here today."
"We're honored and immensely proud that the inspiration for the world's most famous hymn came from an event that happened here on the shores of our beloved Lough Swilly and set in motion a story that changed history, " added Buncrana mayor, Cllr Peter Mc Laughlin.
Caught in a violent storm in theAtlantic Oceanin 1748, John Newton cried out to God for mercy. Stepping safely ashore a changed man, his experience later inspired him to write "Amazing Grace".Newtonlater mentored English parliamentarian William Wilberforce, whose untiring political campaign eventually resulted in passage of the 1833 Slavery Abolition Act, which abolished slavery in most of theBritish Empire.
Speaking for the Amazing Grace Initiative, Padraig Mac Lochlainn, TD, said, "I hope we can embrace the story of 'Amazing Grace' and champion the values of John Newton and William Wilberforce. I would love to make Buncrana and the shores of Lough Swilly a centre for all that is good about humanity – for peace, hope, justice and human rights – a place for rediscovering faith and finding our soul's resting place."
Other dignitaries at the opening acknowledged the contribution of Inishowen Development Partnership in funding the viewing point. Cllr Nicholas Crossan, Chairman of the Amazing Grace Initiative said, "Our hope is that, here on the shores of Lough Swilly, people may be inspired like John Newton to champion justice, peace and reconciliation both on this island and all over the world." Local Deputy Joe McHugh TD added, "We can be inspired by the Amazing Grace story. I feel inspired today."
The Amazing Grace Initiative is a joint project of Inishowen Development Partnership and Buncrana Town Council together with local businesses and community groups.
Visit www.amazinggrace.ie or find Amazing Grace Country on Facebook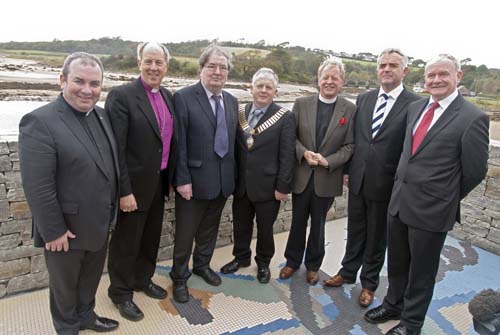 (from left) Fr Francis Bradley, representing the RC Diocese of Derry, Rt Rev Ken Good, Bishop of Derryand Raphoe, John Hume (Nobel Laureate), Peter McLaughlin Mayor of Buncrana, Rev David Latimer, Presbyterian minister and peace worker, office of the First Minister, Jonathan Bell, MLA, deputy First Minister, Martin McGuinness, MLA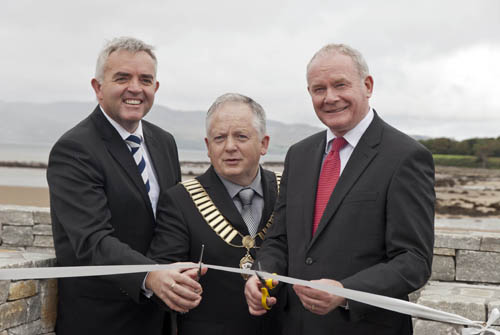 (from left) office of the First Minister, Jonathan Bell, MLA, Peter McLaughlin Mayor of Buncrana, deputy First Minister, Martin McGuinness, MLA
This entry was posted in news. Bookmark the permalink.
← Antwerp New York
The Irish Mission at Watson House: Reopened After Hurrican Sandy →
Comments are closed.